Author Profile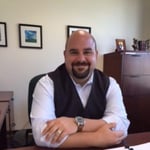 Jeff Harmon | Vice Provost for Strategic Initiatives and Institutional Effectiveness, Thomas Edison State University
Current Position and Past Experience
Jeff Harmon is currently Vice Provost for Strategic Initiatives and Institutional Effectiveness at Thomas Edison State University. He is also the Accreditation Liaison Officer for the Middle States Commission on Higher Education. Previously, he was Associate Vice President of e-Learning & Learning Enterprises at Ocean County College. He has been teaching business, management, marketing and human resource management courses since 2007. Harmon's previous positions include Director of Accreditation at the Commission on Accreditation for Marriage and Family Accreditation (COAMFTE), as well as serving as a consultant to various DC-area accrediting agencies.
Education, Honors and Achievements
Harmon holds a Bachelor of Science in Business Administration from Rider University, a Master's of Business Administration from the University of Phoenix, and a CFP from Boston University. He is currently pursuing his doctorate in Educational Leadership from Rowan University.
Personal Details and Community Involvement
Harmon is an amateur triathlete and Ironman racer, a mountaineer and avid outdoors enthusiast.
Connect
You can connect with Jeff on
Twitter
Articles by this author: