Author Profile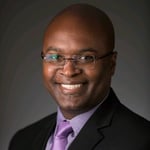 Jan Wyatt | Associate Vice President for Business, STEM, Nursing and Health Professions, Southern New Hampshire University
Current Position and Past Experience
In his current role as Associate Vice President, at SNHU's Global Campus, Dr. Wyatt leads the efforts of the online Business, STEM, Counseling, Health Professions, and Nursing programs. With a continued focus on student outcomes, academic quality, effectiveness and efficiency, fiscal responsibility, and creating appropriate and engaging learner experiences, Dr. Wyatt also embodies the principle that organizational success is inextricably dependent on the success of the people and teams within the organization. As a result of this belief, he works tirelessly to build highly engaged, motivated, results-oriented teams that drive the organization to fulfill its mission of learner transformation.
During his fifteen years in higher education, Dr. Wyatt has served in a variety of roles including Associate Professor, Department Chair, Academic Dean, Vice Provost, and vice President of Academic Affairs. He has in his career provided strategic and operational leadership as well as oversight for all of academic affairs functions. He has also provided leadership for several academic support functions that spanned across multiple modalities, and at times multiple sites. Those functions included oversight over all academic programs of study, student learning experience, curriculum development, course development and design process, accreditation, Registrar, Library, academic strategic planning, and budget management.
Education, Honors and Achievements
In addition to a Ph.D. (Capella University), an M.B.A. (Southern New Hampshire University), an M.S. in higher Education Administration (Kaplan University), and a B.S. in Marketing (Florida International University), Dr. Wyatt has also completed leadership development and executive training programs at institutions which include Harvard University and University of California Berkeley.
Personal Details and Community Involvement
Born and raised on the Caribbean island of Trinidad, Dr. Wyatt still loves travel to warm Caribbean locations where he can spend time in the sun and in the warm Caribbean Sea.
Connect
You can connect with Jan Wyatt on
Linkedin
Articles by this author: