Author Profile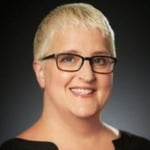 Heather Chakiris | Chief Student Experience Officer, UCLA Extension
Current Position and Past Experience
Heather Chakiris is the Chief Student Experience Officer at UCLA Extension, where she serves as chief strategist for Strategic Enrollment Management. Before joining UCLA, Chakiris worked at Penn State for almost 25 years, both in their World Campus and Continuing Education divisions, holding several leadership roles including the Associate Director and Director of Advising and Learner Success, Assistant Director and Associate Director of Student Services and Marketing Manager and Strategist.
Chakiris has authored and co-authored several articles and chapters on the subject of online higher education and has served as Chair, Associate Chair and Chair-Elect for various UPCEA regions and networks.
Education, Honors and Achievements
Chakiris earned her B.A. in the Liberal Arts (Writing for the Arts) from Penn State and an Executive Management II Certificate from the University of Michigan Ross School of Executive Education. She earned her M.Ed. in Higher Education from Penn State.
In 2012, Chakiris was a co-recipient of the Distance Education Innovation Award from the National University Technology Network. In 2011, she was awarded the Penn State Outreach Vice President's Award for Leadership and, in 2009, the Outreach Vice President's Award for Entrepreneurship, Innovation and Creativity. In 2010, Chakiris was co-recipient of the Miscellaneous Interactive Marketing Award from UPCEA for the World Campus Second Life Island.
Personal Details and Community Involvement
An avid music fan, on weekends Chakiris can be found scouring Los Angeles record stores for rare treasures from the Replacements, Afghan Whigs, and Smiths. She buys more books than she reads, is a foodie who hates to cook, and spoils her rescue animals: Milo Augustin, Mercy Mays, Marvin K. Mooney, and Rhoda Morganstern. Chakiris is a diehard football and tennis fan and gets a little too competitive playing air hockey.
Connect
You can connect with Chakiris through
LinkedIn
and on Twitter
@UCLAxHeather
.
Articles by this author: