Author Profile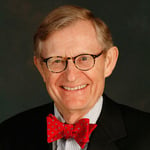 E. Gordon Gee | President, West Virginia University
Current Position and Past Experience
Dr. E. Gordon Gee is one of America's most prominent higher education leaders, having served as president of some of the most prestigious public and private universities for more than three decades.
When he returned to lead West Virginia University in 2014 as the institution's 24th president, it was a homecoming of sorts – he was first named WVU president in 1981 at the age of 36. He led West Virginia University until 1985, when he went on to presidencies at the University of Colorado (1985-90), Brown University (1998-2000) and Vanderbilt University (2001-2007). He served as president of Ohio State University from 1990-1997 and again from 2007-2013.
Gee has served on several education-governance organizations and committees, including the Big 12 Conference Council of Presidents, the Business Higher Education Forum and the American Association of Universities. He is past chair of the American Council on Education's Commission on Higher Education Attainment and formerly served as co-chair of the Association of Public and Land-Grant Universities' Energy Advisory Committee. In 2009, King Abdulaziz University in Saudi Arabia invited him to join its international advisory board. In 2009, Time magazine named him one of the top 10 university presidents in the United States. He is currently serving as chair of the Big 12 Board of Directors Executive Committee and is a member of Forward 50, an initiative working toward student equity, success and outcomes.
In 2011, Gee began serving as secretary on the Board of Directors of Ohio's economic development program, JobsOhio. In 2011-12, Governor John Kasich asked him to chair the Ohio Higher Education Capital Funding Collaborative and the Ohio Higher Education Funding Commission. In December 2012, he began serving on the Columbus Education Commission.
Education, Honors and Achievements
Born in Vernal, Utah, Gee graduated from the University of Utah with an honors degree in history and earned his J.D. and Ed.D. degrees from Columbia University. He clerked under Chief Justice David T. Lewis of the U.S. 10th Circuit Court of Appeals before being named a judicial fellow and staff assistant to the U.S. Supreme Court. In this role, he worked for Chief Justice Warren Burger on administrative and legal problems of the Court and federal judiciary. Gee returned to Utah as an associate professor and associate dean in the J. Reuben Clark Law School at Brigham Young University, and was granted full professorship in 1978.
Gee has received many honorary degrees, awards, fellowships and recognitions over the years. He is a fellow of the prestigious American Association for the Advancement of Science, the world's largest science organization. In 1994, Gee received the Distinguished Alumnus Award from the University of Utah, as well as from Teachers College of Columbia University. In 2013, he received the ACE Council of Fellows/Fidelity Investments Mentor Award and the Outstanding Academic Leader of the Year Award on behalf of Historically Black Colleges and Universities.
He is the co-author of over a dozen books, including his two most recent, "Leading Colleges and Universities" and "Land-Grant Universities for the Future." He has also authored many papers and articles on law and education.
Connect
You can find E. Gordon Gee on Twitter
@GordonGee
.
Articles by this author: