Author Profile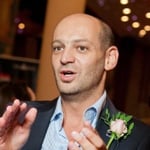 Dan Vigdor | Founder and Executive Chairman, ThriveDX
Current Position and Past Experience
Dan Vigdor, Founder and Executive Chairman of ThriveDX. The institution, formerly called HackerU, is designed to build the digital skills and cyber workforce by providing quality, rigorous and comprehensive digital skills and Cyber Security Education and Training to diverse groups of global leaners from a variety of socioeconomic backgrounds through collaboration with top tier Universities world-wide.
With over a decade of experience as Israel's premier, digital skills and cybersecurity technology education provider, ThriveDX partners with top-tier academic institutions world-wide to offer advanced, professional development programs in digital technology. ThriveDX's dedicated Research and Development Teams ensure all digital and cyber curricula remains relevant to current industry standards and aids students in developing the skill sets they need to acquire life-long careers in the digital workforce and enables them to re-shape their path in life.
In a previous venture, Dan Vigdor founded BornFree Holdings, he built a company that changed the landscape of the baby bottle industry, being the first company to come out with a fully BPA free (toxic free) baby bottle line in the USA. BornFree quickly rose to be the choice baby bottle for mothers, the number one "lifestyle" brand with distribution across America. Soon after the FDA changed the law and forbade BPA in all baby bottles in the USA.
Dan Vigdor is also a member of the Board of Eyesafe.com. Eyesafe has become the best-in-class blue light protection and management solution for the world's leading device manufacturers with Eyesafe® and Eyesafe technology, helping to protect children's and people's eyes around the world from the harmful effects of blue light.
Dan Vigdor has been in business since a young age. Mr. Vigdor, a serial entrepreneur for over 30 years, specializes in the growth and development of purpose driven and disruptive businesses. His uncanny ability to search out new ideas, disrupt industries and build a purpose driven company from the ground up makes him an integral member of any business management team.
Personal Details and Community Involvement
Dan Vigdor is an active member of Young President Organization (YPO) and has been serving on its Executive Committee for the past few years. An Active board member of Venture For America/Miami – Dan Vigdor encourages and facilitates young entrepreneurs to achieve their dreams.
Connect
You can connect with Dan on
LinkedIn
Articles by this author: