Humanizing Online Education Through Technology and Community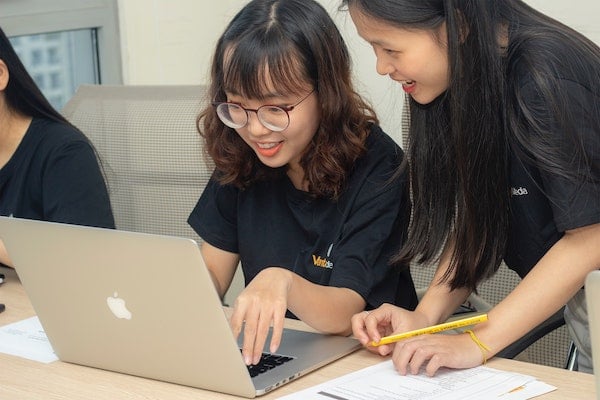 During the extended pandemic, traditional colleges and universities have rushed to move programs online by simply transferring an existing degree to a digital format. In fact, Quality Matters found that 57% of higher education leaders surveyed agreed that the pandemic had positively re-prioritized online learning at their institution. This is not surprising considering 70% of the US workforce has been working remotely. Some institutions of higher education have been more successful than others in making the digital leap. One big difference between those who succeed and those who fail? How an institution deploys human resources to create a learner-centric experience.
Think about it this way: Videoconferencing has existed for years. The COVID-19 crisis has pushed many of us into remote working situations. Out of necessity, we have embraced virtual meetings. However, just because the underlying technology is widely used does not mean that leaders know how to run an effective online meeting. Similarly, moving what works in the traditional face-to-face classroom directly into an online setting does not always work well for learners. Digital Promise found that only 19% of undergraduate students were satisfied with their courses after moving online, compared to 51% before. Why? Students cited feeling less included in class, having fewer opportunities to network with peers and having difficulty remaining engaged with course materials.
It is interesting to note that students rated understanding course expectations, instructor knowledge of learner strengths and weaknesses, as well as the availability of help with course content to be the same or higher in online settings. It says that it is not enough to replicate good learning materials, video lectures or even discussions; what really matters, when most schools have similar technology, is the human element. This is not just important from a student success standpoint but also from a new student recruitment perspective. Colleges and universities can leverage their faculty, para-curricular efforts and other services to stand out from the flood of online competition.
At Western Governors University, we harness technology to connect people–faculty, instructors, mentors, fellow students and alumni. We deploy several types of faculty members to support students in their pursuit of meaningful credentials. Students engage with course material and faculty to prepare for learning assessments. Once a student demonstrates competency in a particular area of learning, they move forward to the next course or learning task. Students can accelerate based on their prior learning or the amount of time they can dedicate to their studies. This self-paced model is enabled by technology but powered by a community of care. Along the way, learners develop deep relationships with their faculty members. At WGU, these include course instructors, program mentors and evaluation faculty.
Course instructors are academically and professionally qualified to teach students in a particular subject. Instructors follow a master curriculum and develop personalized learning resources and plans for their students based on each one's particular needs. It is not uncommon for instructors to field calls from several students every day. These conversations are heavily focused on tutoring students and helping them prepare for course assessments.
Program mentors are part life coaches, part academic advisors and part resource connectors. Mentors help students create their academic plan of study and stick with it. Students often cite their mentors as the key to graduating. For example, Kristen said, "What will stay with me after the two years or three years with Jeremy (mentor), is probably that he had so much confidence in what I knew. And the fact that someone I just recently met can have that much confidence in me…is definitely going to push me." Mentors help students stay resilient and build social and emotional learning skills that lead to success. Evaluation faculty are responsible for grading student assignments and tests. As an independent group, they provide objective feedback to learners. In this way, students receive timely feedback and can be assured they have mastered each competency area. All three types of faculty members create a community of care that helps students stay engaged, even when things get tough.
It's not just our faculty that helps students succeed. We have online student chapters, social media groups and alumni and career services. The College of Business at WGU currently has one of the largest virtual student SHRM Chapter in the country, a growing National Black MBA Association Club and a student-led Facebook Group with over 13,000 members. Together with the University's 180,000-plus alumni, students have various support and networking resources. This all results in happy graduates who refer their friends to our programs. 77% of graduates report that their program was worth the cost compared to a 37% national average.70% report that they had a mentor who encouraged them during their studies compared to a 32% national average, and 96% say they have recommended the university to others in contrast to an 82% national average. This last referral stat is our most powerful recruitment tool, and it stems from a robust community consistently engaging with students and offering resources and support tailored to their needs. As higher education continues to expand its digital footprint, student success and student recruitment may very well depend on powering programs with the human element.
Disclaimer: Embedded links in articles don't represent author endorsement, but aim to provide readers with additional context and service.
Author Perspective: Administrator
You Might Also Like