Securing Strong Relationships with Industry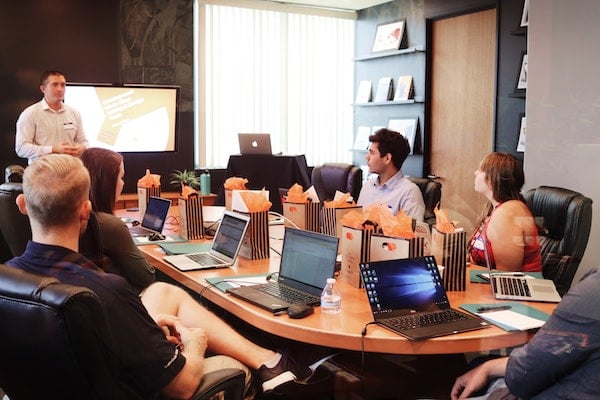 Traditionally, higher education hasn't moved as fast as business, which has created a skills gap between higher ed and industry. And the workforce needs employees with the right skillsets in the market immediately. By establishing strong partnerships, the two sides can come together and closely align programming with workforce needs to begin closing this gap. In this interview, Mark Koulianos discusses common mistakes when securing corporate training partnerships, creating long-term partnerships and what makes a strong relationship between institutions and employers.
The EvoLLLution (Evo): What are some of the common mistakes that higher education institutions make when trying to secure corporate training partnerships?
Mark Koulianos (MK): I can't speak for all universities and colleges in this space, but generally they don't move at the speed of business. That's probably the biggest thing. When you're dealing with colleges or universities and doing Workforce Development or Continuing Ed, there are usually layers of bureaucracy to get through to just get a contract signed. And the companies you are working with are looking to you to solve a problem for them quickly. So, the colleges or universities able to move at the speed of business will have a competitive advantage. Certainly, we've tried to build our business that way, to move at the pace our clients expect.
Evo: What can the university leverage to turn a one-time training engagement into a long-term partnership?
MK: Well, it just gets down to a basic client service relationship. Obviously, you need quality programming and to service the client the way they want to be serviced—so you have to be flexible. If they need the classes to be taught on a certain day, at a certain time, you have to meet their needs. Secondly, you specifically focus on making a long-term plan—not short-term, one sale and done type of thing.
For example, often you'll get into one program within one department who provides training on a specific thing. But as an institution, you have to keep in the back of your mind that you have other programs to offer. So, I always like to mention how the different programs can build upon each other to create a successful training plan. One of the most important things in building a long-term relationship with a client is having some kind of accountability session, so you can make sure that what you're training on is actually being put into practice by the employees you trained. So, it's just really a mentality. I never think of any client I talk to as a one-time sale; I think about building a relationship and making that company successful through the training services we provide.
There are so many different aspects to that. It's not just about delivering training—it's about the whole customer journey. Just because you're an education institution doesn't mean you can't treat these people like, "Hey, we have all the answers—do it our way or no way." You'll never build a long-term relationship like that with anybody, especially not corporate clients.
Evo: When you go into those meetings for that first conversation, do you set the foundation to build that long-term relationship?
MK: I'm a pretty upfront person, so I actually say that to them right away. One of my selling points is that I work for a major research university; we're not going anywhere. I'm not looking to do this to just sell you one thing, one time. I want to be with you on this journey, as you're growing or revitalizing your company. I tell them, "We want to be a part of that, we want to be a partner." Those are the words I use.
We want to be your first choice when you're thinking about any type of training in our fields of expertise. So, I try to set up that expectation when I talk to corporate clients, and I'm very transparent about it. It's not a passive thing.
Evo: What kind of experience must a university deliver to its corporate partners to maximize its chances of continuing that partnership?
MK: Really, it's about providing value. You have to deliver programming that's useful to your client. You need instructors who know how to teach corporate training—it's different than teaching in an undergraduate or a graduate course. It is truly applied learning. We use real-world consultants to teach our courses. That way, they are teaching what they already do on a daily basis. We look for instructors with years of experience but also the teaching skills to be but good instructors as well as subject matter experts. That's how we ensure our clients will have a positive experience in the classroom.
It goes back to listening to what problem our clients are trying to solve. If you solve their problem, they're going to keep coming back to you. Typically, people won't leave you over price or anything like that, if they're you're getting the results they need along with a customer experience. So, as long as you deliver on those things, it leaves that door open to continue working together.
Evo: What would you say are the characteristics that lead an employer to retain their relationship with a given institution?
MK: It really goes back to client service and delivering value. For example, their schedule is going to take priority, so being flexible and working around when they can send their employees to training is really important. The other thing is just delivering on what you promised. That sounds really simple or foundational, but that is not always the case with some training providers. Setting expectations is important as well. Training is a mixed bag because not everyone who goes into a class is going to do what they've been trained to do, and I believe you have to address that upfront. But the employer you're working with will be pleased with the results if you have identified the root cause of the problem and provided effective training for it.
For example, with adult learners, you have to put things in place to ensure they are grasping and retaining the knowledge you are teaching, things like periodic active knowledge checks. But at the end of the day, it's all about providing value and helping the employees reach the place they want to get to. I know it sounds really simplistic, but you'd be surprised at how much those foundational goals are lost in some of the engagements I hear about.
Again, that's how we try to differentiate ourselves—by making sure we understand not just their training needs but as much as we can about their business. For example, we do a lot of work with Amazon Logistics. You could imagine how, now with COVID, they are much busier, with more people buying things online We originally set up a schedule with them, and then they called us and said, "Look, we're running triple shifts, over time. We need to push back this training a week or switch it from this day to this day." You need flexibility that will allow you to at least meet them halfway and say, " I don't want what we're doing to disrupt your business—I want it to enable you to do more."
Evo: How do universities benefit from establishing that long-term training partnership with employers?
MK: It depends on the university or college. We do a lot of community outreach because USF wants to be a major part of the economic engine in the Tampa Bay area, the state of Florida and across the United States. One of the ways we think we can do that is through Workforce Development. We also talk a lot about student success. Historically, student success was measured through job placement rates in that first year after graduation and the starting salary those graduates earned. I've argued that real student success is building these people into lifelong learners, who are likely to return to your university to upskill and reskill as they move along their career journey.
So, I see what we do with the companies we work with as being part of that lifelong learning model. Helping them train, upskill or reskill their employees will lead to greater success for these companies, especially as the global economy keeps changing. As the world changes, the ability to upskill or reskill our workforce quickly and efficiently will either give us a competitive advantage or at least keep us competitive as an area, state and country. Playing a major role in this strategy will keep us relevant and provide a key economic benefit to our area, state and country.
Evo: Is there anything you'd like to add about establishing strong partnerships with employers?
MK: When you get it to work right, both parties benefit. And it becomes organic in the sense that it's a word-of-mouth business. So, when you have one happy client, inevitably they're going to tell someone else about it.
When a corporate client loses an employee and has to rehire, there is a cost that comes with replacing them. It's the same thing when you have a good training partner, who is flexible, versatile and offers quality programming. If you have to find a new training partner, it comes with risk and at a cost. Once we have built a winning partnership you don't have to go out and find me again. You could pick up the phone, email me, say, "Mark, I know you did process improvement training for us. Do you have anything on women in leadership? Diversity, equity and inclusion? Project management?" Whatever it is, the training they need is that much easier for them to access—and to get it from someone that they trust. Once you've built that relationship, they are not risking anything with it. Your client knows exactly what they are getting. When I was on the other end, the corporate side, I always thought that having a training partner I could leverage to help me achieve my goals was invaluable. My advice to colleges or universities looking to be in this space is to figure out how to become that invaluable training partner.
This interview was edited for length and clarity.
Disclaimer: Embedded links in articles don't represent author endorsement, but aim to provide readers with additional context and service.
Author Perspective: Administrator
You Might Also Like