Author Profile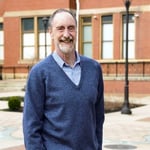 Dale Shannon | Senior Economist, Downstream Strategies
Current Position and Past Experience

Dale Shannon is currently Senior Economist at Downstream Strategies and has been in this position since 2021, following eight years as Principal and Chief Economist at Regional Quantitative Analysis Group. From 1992 to 1999, Shannon was a research economist in the Regional Economic Analysis Division and the International Investment Division of the U.S. Bureau of Economic Analysis before moving on to the role of Senior Economist at a private, non-profit, regional economic development company, the Connecticut Economic Resource Center, in 1999 for 13 years. Prior to that he served as a Peace Corps Volunteer, teaching math to secondary school students in Ghana.

Education, Honors and Achievements

Shannon holds a Master of Arts in Economics from Boston University, with an emphasis in public enterprise, along with a Bachelor of Arts in History and Political Science from Houghton University.

Personal Details and Community Involvement

Shannon is very active in his community, serving on the board of a recovery house for women, actively engaged in the non-profit community development organization Create Buckhannon, and previously serving on the city's planning commission. He enjoys hiking, cycling, kayaking, woodworking, and renovating old houses in his free time.

Articles by this author: