Building the Future of 'New Collar' Jobs with Digital Badging
In July 2018, IBM—a corporate leader in digital badging—announced The Zero to Blockchain capstone course, an industry-leading collaboration with Wake Technical Community College that provides students with a keen understanding of blockchain technology. The course is part of IBM's broader New Collar jobs initiative, in which IBM develops programming in partnership with postsecondary institutions to create robust career pathways for students in growing technology fields like cyber security, cloud computing and digital design.
In this interview, David Leaser and Rachel Akers discuss how the shift towards New Collar jobs is revolutionizing the tech industry, and explain how IBM's commitment to digital badging is expanding opportunity for job seekers in this high-growth field.
The EvoLLLution (Evo): What led IBM to build this badging partnership with Wake Tech Community College?
David Leaser (DL): Like others in our industry, IBM is always looking for good candidates with the right mix of in-demand skills, but the education system is not able provide the graduates we need. There are literally over half-a-million technology jobs that need to be filled in the United States right now, but our universities are only producing one tenth of that number of computer science graduates. The skills gap in the modern IT workforce was one of the main drivers for our partnership with Wake Tech.
Rachel Akers (RA): The partnership came about with Wake Tech because we had some open blockchain internship positions in the Raleigh area, and we were having difficulty finding local colleges and universities that had the blockchain curriculum required to fill those internships. That's why we reached out to some community colleges to help them create this blockchain curriculum.
Evo: Why did IBM decide to work with postsecondary institutions to develop programming, rather than develop your own offerings in-house?
DL: We do both, as part of a broader effort to employ a number of different channels for skills training. We partner with a network of global training providers. We have online sources. We have our own in-house skills academy. We have a number of different groups at IBM that are delivering training. We work with Coursera and edX, and Rachel is hosting this broad outreach with community colleges.
Evo: What are some of the advantages to building up this access pathway through established two-year colleges?
RA: We're looking at all of the avenues for skills training available. We need academia to help us create cutting-edge programming, just as much as academia needs industry to provide insight into what skills graduates need in the working world. Industry and academia need to partner as we move forward, not just on one specific platform or industry but across the entire range of educational opportunities, to close that skills gap.
DL: There's a real surge in the number of modern middle-class jobs in tech that do not require a traditional bachelor's degree. They're not blue collar. They're not white collar. We call them New Collar. These are roles that prioritize capabilities over a traditional degree. They're in leading technology industry fields like cloud computing and cyber security, digital design and cognitive business. What matters most for these roles is finding people who have the right mix of skills to deliver these capabilities for our clients.
Last year, these New Collar candidates accounted for 15 percent of all the IBM hiring in the United States. Right now, as many as one third of our employees at IBM have less than a four-year college degree.
This is why IBM is shifting its focus: We're making the tech industry more diverse, more inclusive and more committed to bringing in people with non-traditional backgrounds. As an alternative to pursuing a four-year degree, New Collar candidates build their skills through community colleges, coding camps or modern career education programs like our PTECH model.
The added benefit of our New Collar initiative is that it is helping to create more jobs for people in parts of the country where tech jobs are scarce. Because we're partnering with regional two-year community colleges rather than major markets, we're hiring New Collar IBM'ers in places like West Virginia, Louisiana, Missouri and Iowa, rather than in our traditional coastal markets. This is really about creating tech career opportunities in new regions, and in new ways.
Evo: What did it take to get the partnership between IBM and Wake Tech from concept to reality? What were some of the challenges that needed to be overcome in order to launch it?
RA: We were very careful in developing this partnership program. Our partnerships are where we're hiring New Collar workers, and where we had support from the community and IBM itself.
Wake Tech was a really easy community college to choose as a partner, because IBM had partnered with Wake Tech and the Raleigh area in the past. Wake Tech is now an authorized badge issuer with IBM.
Evo: You mentioned that IBM is a leader in digital badging. What excites you most about the potential for badges, and their value for students, employees and employers?
DL: Building skills has always been a focus for IBM. We issue an enormous number of badges internally, but we also have a very robust program outside of IBM for upskilling our clients and business partners, and to provide a talent pool for our customers.
People get skills training for one of three reasons: To get a job; to keep a job; or to get a better job. The great thing about badges is they are a modern signal of achievement and employability. It's an alternative credential that signals that you have the most relevant skills. Badges have merged social media with a digital emblem: You can see a person's discreet accomplishments at the micro level, verify those accomplishments, and provide a signal of achievement that can help a person advance in their career.
Evo: Even in the non-traditional space, a lot of higher education leaders still see badges as experimental. They don't feel employers really understand what a badge is, nor do they feel employers recognize their value compared to more traditional credentials that might be better understood in the labor market. Looking beyond IBM, how do most employers feel about badging? What needs to change in order to move towards a wider acceptance and adoption of badging and microcredentialing?
DL: The whole concept of Open Badges was only introduced a few years ago. In 2012, the Mozilla Foundation partnered with the Bill and Melinda Gates Foundation and the MacArthur Foundation to create the concept of open badges. So, I think that we're still in the earliest stages of innovation in terms of badging. In 2017 Mozilla asked IMS Global to lead the future development of Open Badges and they have continued to expand the community and strengthen the technology, now with Open Badges 2.0 (OBv2).
That said, the number of badges that are being issued is increasing dramatically. At IBM, we've issued more than 1 million badges. We have hundreds of activities where we're issuing badges. We have a skills registry of people that have achieved an accomplishment at IBM in all 195 countries in the world. As we start to look at the labor market and the skills gap, alternative credentials are really going to start gaining steam.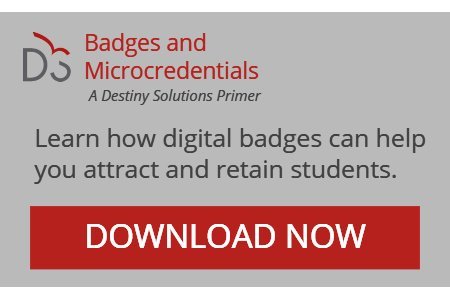 Evo: How do you envision the growth of microcredentialing and digital badging?
DL: We're going to start seeing a convergence of credentials, where knowledge that is gained on the job can be captured and articulated for credit.
Let me give you an example. We ran a pilot with Northeastern University where we asked whether there is a way to create a digital transcript for somebody who learns on the job, and whether that learning can be used to earn college credit.
Northeastern looked at our badge program, and determined that, yes, on-the-job learning can be repurposed for college credit. Now, Northeastern offers college credit for IBM badges, which means that if you, as an IBM employee or customer, earn an IBM badge, certain offerings will count as credit towards a degree at Northeastern University.
Evo: What are some of the New Collar Certificate Programs that IBM is developing? What labor market need are they responding to?
DL: We are creating an industry-leading approach to developing a credential program for New Collar jobs which are in demand and don't require a college degree. These jobs range from customer engagement, cloud, cognitive and cyber security, to design and user experience.
The New Collar Certificate Programs follow a unique four-step method to create a ready-to-work talent pool.
It starts with a job fit assessment. This is a science-based, non-biased approach to assess somebody's cognitive skills, abilities and personality traits to help match a student to a career they want to pursue. So many people start a job and then realize it's a dead end or it isn't the right fit. It's a big expense, and it takes time out of people's lives. We want to help people find a career they're going to love.
From there, we provide them with online training options and direct links to learning journeys where they can get real-world job simulations. These New Collar programs are flexible, scalable, globally consistent programs that will prepare a candidate for hire as quickly as possible.
We use a robust job-task analysis approach to make sure we are providing the specific role-based learning that somebody needs to get in the door to their new career. We create experiential learning opportunities—everything from pre-apprenticeships to apprenticeships to internships—to allow a candidate to experience the unexpected side of work that cannot be taught in a classroom. We're also going to provide structured on-the-job evaluation feedback tools to help prepare a candidate for a job.
Finally, we have a system to connect New Collar workers to employment. Our badges have labor market data built right into them. When you earn an IBM digital badge online, you can click on the badge and it will show you jobs, at IBM and elsewhere, that are available based on your skill set.
We also use these badges to create a skills registry that learners can opt into if they are looking for a new position. So, if you've earned IBM badges and you would like to be discovered by an employer, an employer can search the skills registry and find people who are a good match for a job.
Evo: How would a student access this programming?
DL: Once an individual earns a badge, the system automatically builds them a digital resume that shows all of their badges. The resume has a public URL, but it's the individual's decision whether or not to publicly share it. We build real-time labor market data into each badge with job opportunities that match the individual's skill set, so they can easily look for jobs that would be a good fit.
Using Talent Match, employers can search a database and find jobseekers who are a good fit for the positions they're looking to fill. It's a great resource for an employer that's looking for a new hire, but it's also great for people looking to collaborate on projects. If you're a start-up and you need someone with skills in mobile app development, you can find someone through Talent Match to collaborate on new innovations.
Evo: You seem to be building an infrastructure that benefits not just IBM, but every employer in the IT space. With high-skilled labor at such a premium—and given the challenges of finding and retaining talent—why is IBM putting so much investment into building an education and credentialing infrastructure that could benefit its competitors as much as IBM itself?
DL: IBM is a large company that has an extended network of contractors and business partners, as well as an extensive client base. It's up to us to help ensure that our clients can lead in business, that our business partners are the best in the world, and that our contractors are on the same page as IBM. So, it benefits our entire ecosystem if we develop an infrastructure that supports industry growth.
Evo: Is there anything you'd like to add about the New Collar Certificates and how they fit into IBM's broader credentialing ecosystem?
DL: The next generation of badges is going to involve badge pathways and collections. That's going to be much more powerful than an individual skills badge.
RA: We're not just pushing hard skills development through the New Collar Certificate Program – we're promoting soft skills as well. We were hearing from our hiring managers and others within the industry that people applying for New Collar jobs need professional skills like collaboration and communication as well as the hard IT skills like web design. The program will allow students to receive badges for professional skills as well.
This interview has been edited for length and clarity.
Author Perspective: Employer
You Might Also Like